Our Path Forward
For more than a century, Boy Scouts of America and The Church of Jesus Christ of Latter-day Saints have worked together to instill character, citizenship and fitness in young people. Through the Church of Jesus Christ, millions of young people have been part of the Scouting adventure. For those families, Scouting is more than an activity – it's a legacy. As of December 31, 2019, the formal partnership with the Church will come to an end, but your Scouting journey can continue!
This page will provide the latest tools and updates as you and your family transition to other Scouting units so they can continue the Scouting journey!
---
On behalf of Charles Dahlquist
Dear Scouting Friends,
On January 1, 2020, The Church of Jesus Christ of Latter-day Saints concluded its 106 year partnership with the Boy Scouts of America. However, throughout the country there are thousands of Latter-day Saint Scouts, adults leaders and Scouting families who have expressed a desire to continue their Scouting Adventure.
We would like to extend an invitation to you and others within your council to join us this summer at Philmont for Vision 2020. It will be held Saturday, June 13th – Saturday, June 20th, 2020. It is designed to help Council and District Key 3s, officers, Board members and other Scouting leaders:
Effectively identify Latter-day Saint youth, leaders and Scouting families who desire to continue their Scouting Adventure;
Find new charter organizations within their council boundaries;
Start a Scouting unit to meet the needs of Latter-day Saint youth and families desiring to have a Scouting experience;
Strengthen new units, including organizing unit committees, recruiting more youth, training adult and youth leaders, holding effective fund raisers, developing an annual plan, and learning other skills necessary to continue in Scouting
Understand how Scouting supports and positively impacts a Latter-day Saint youth's participation in the Church's new program for children and youth
Understand the impact an effective Commissioner Service Team can have in strengthening new units serving Latter-day Saint youth, including having a strong cadre of New Unit Commissioners;
Understand the new and exciting Vanguard International Scouting Association, an independent organization approved by the Boy Scouts of America to serve the needs of Latter-day Saints in Scouting worldwide – including learning how to become a part of Vanguard International;
Understand how to help youth and adults earn the new and exciting religious awards for Latter-day Saint Scouters;
Learn how Latter-day Saint youth are now involved in packs and troops much larger and much more active in teaching Scouting skills and leadership than ever before;
Understand how to identify and effectively utilize social media and other community and internet resources to effectively market Scouting in your area and identify those Latter-day Saint families interested in giving their youth a Scouting experience; and
Much, much, more!
Attached is a flyer and here is a promotional video: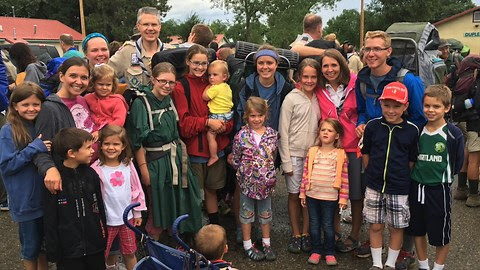 https://vimeo.com/396478361.
In addition, spend a wonderful week in the shadow of the Sangre de Cristo mountains enjoy the company of other Latter-day Saint families learning about Scouting, sharing spiritual experiences, spending wonderful family time, enjoying the spectacular sunsets and meeting new acquaintances that will last a lifetime – all in the beautiful setting of the Philmont Training Center. For those who have experienced the Philmont Training Center in the past, it has become one of their most memorable family vacations – as Scouters learn about Scouting, spouses have a wonderful "Silverado" activity program including some much-needed quiet time (always an option at the PTC) and all enjoy being together as a family. Plus, you can learn to carve Bolos with the skilled Gary and Laura Dollar, see the beautiful new Scouting Museum located right next to the Philmont Training Center, participate in the Family Parade at Family Home Evening – and a hundred other wonderful activities at Philmont Scout Ranch.
---
Dear Scouting Families of the Church of Jesus Christ of Latter-Day Saints, please take the survey through the link below, to help us help you find a Scouting home:
---
Can my family continue in Scouting?
 (click on the following links to view youtube video)
Charles Dahlquist discusses changes to the relationship between the BSA and the Church of Jesus Christ and how Scouting families will be continuing with Scouting.
Still Scouting: 2020 and Beyond
Will your troop or pack close at the end of this year? Does your family plan to still be Scouting in 2020? Join Charles Dahlquist and Mark and Nettie Francis..
---
New Children and Youth Initiative
With the introduction of the new Children and Youth Initiative by The Church of Jesus Christ of Latter-day Saints on September 29, 2019, we are excited to share with families how participation in Scouting can be a part of the goals set by children and youth.  The images below demonstrate how a youth or child participating in the new Church initiative can select Scouting activities in the areas of Personal Development as well as Service and Activities.  As always, the values of Scouting combined with the structure of the Church can help our children and youth stay focused on the Savior and "become men and women of integrity."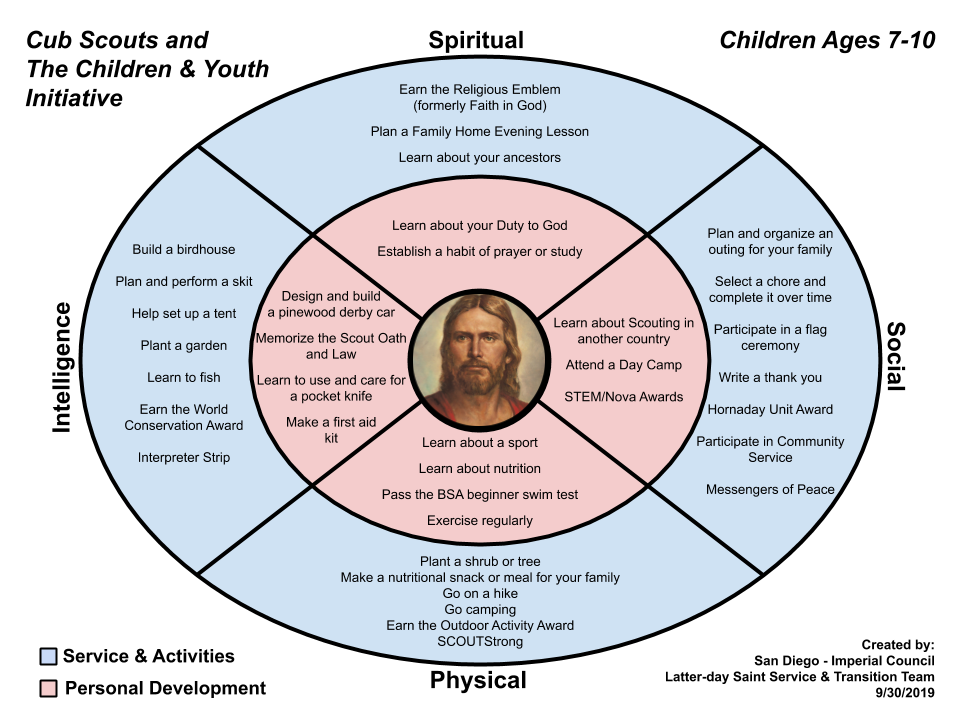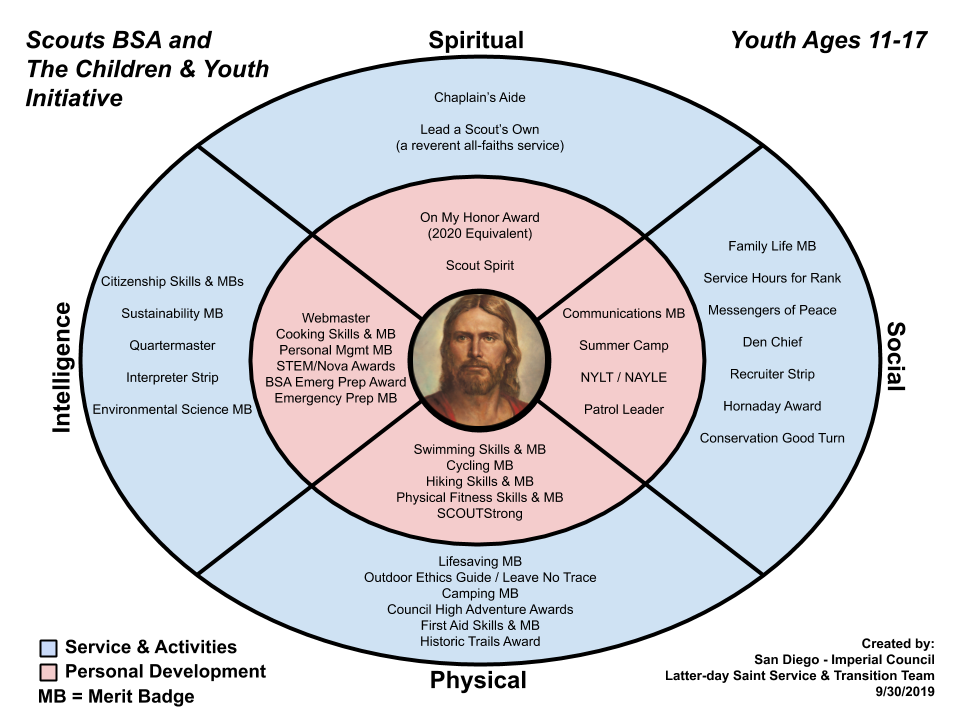 Please visit this link to see the Children and Youth Introductory Video:
https://www.churchofjesuschrist.org/youth/childrenandyouth/children-and-youth-introductory-video-broadcast?lang=eng
Children and Youth Introductory Video Broadcast
Stories and experiences from test stakes are shared. Parents and leaders are encouraged to read An Introductory Guide for Parents and Leaders, to counsel with their children and youth to discover the areas of growth and learning they are interested in, and to look forward to the November 17 Face to Face event with Elder Gerrit W. Gong.
---
Building Resiliency in Youth
In the September 2019 issue of the Ensign, there are several articles related "Raising Resilient Children". In an article titled "Resilience – Spiritual Armor for Today's Youth", Elder Robbins describes the need to strengthen our youth so they are more likely to finish a tough first year of college, or complete a full term of missionary service.
Resiliency can come through doing hard things, such as meeting a demanding work schedule while attending High School, or trying new things, such as mastering a musical instrument or team sport. Inherent in the Scouting process are many opportunities to develop resiliency, such as completing a week-long backpacking trip, or navigating the process to become an Eagle Scout. Completing four years of seminary will help our youth develop resilient testimonies of Jesus Christ and His restored Church.
 https://www.churchofjesuschrist.org/study/ensign/2019/09/resilience-spiritual-armor-for-todays-youth?lang=eng
Resilience—Spiritual Armor for Today's Youth
Charity (giving someone a fish) and self-reliance (teaching someone the art of fishing) also apply to parenting. We could make every decision for our children, but it would be wiser to teach them the art of decision-making and thus help them become intellectually, spiritually, socially, and emotionally self-reliant.
---
Questions & Answers
Can my child continue in Scouting?
Yes! There are Cub Scout packs, Scout troops, Venturing crews and Sea Scout ships chartered by community and religious organizations in your area. Contact the Midnight Sun Council at 907-452-1976 to find out where you can join or start a unit of your own!
Can we be involved in both Church and Scouting activities?
Of course! In fact, the Tufts study found that sports and Scouting are a powerful driver of character development in young people. Additionally, the Baylor study "Merit Beyond the Badge" showed that Eagle Scouts had a greater connection to religious community.
Is Family Scouting available to us?
Yes! Scouting has always been a family activity. In fact, Cub Scouting now offers separate dens for girls and boys, and Scouting-age youth will have opportunities in single-gender troops beginning February 1, 2019.
Why should I continue?
Since the Scouting values, character and leadership training you have come to know are now available for your entire family, Scouting can continue to prepare your child to do hard things, set goals, earn the Eagle rank, prepare for a mission and serve our nation.
How can I help? Can I still serve?
There are many ways that you can help Scouting in your area. Whether you are volunteering directly with Scouts or helping out behind the scenes, you can make an impact on the lives of Scouts by volunteering your time.
Assisting directly with the Scouts on an ongoing basis
Leader (Cubmaster, Den leader, Scoutmaster, Venturing crew Advisor)

Assistant leader

Board of review coordinator/member

Court of honor coordinator/member     
Helping directly with the Scouts in specific events or activities
Event coordinator/event committee member

Pinewood derby coordinator/committee member

Service project coordinator/committee member

Camping trip participant

Banquet coordinator/committee member

Day camp coordinator/participant

Summer camp coordinator/participant/promotion

Merit badge counselor   
Support: Administrative Role
Advancement committee chair/member

Communications committee chair/committee member (Webmaster, PR, newsletter)

Secretary: record keeping, meeting minutes, annual recharter activities

Treasurer/assistant treasurer

Youth Protection training coordinator

Life to Eagle coordinator

Merit badge coordinator

District Committee
Support: Other
Chartered organization representative

Friends of Scouting coordinator (fund-raising)

Unit committee chair/member

Unit youth recruiter

Product sales committee coordinator/member

Promoter of district/council events to parents

Religious award committee coordinator/member

Trainer

District/council committee member

Transportation coordinator

Historian

Quartermaster

Unit Commissioner

 
How can I find a new unit to join?
Call (907) 452-1976 or contact a local unit directly: 
What if i still have additional questions?
Chat with us:
E-mail robert.stewart@scouting.org .
Call (907) 452-1976.
Come visit us at our Council Service Center. 1400 Gillam Way, Fairbanks, AK 99701