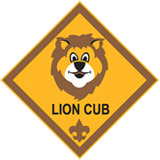 LIONS
Starting August 1st, the start of the 2018/2019 program year, Lions will no longer be a pilot program and will be full members of the Cub Scout, Scouts BSA program. There is a lot of excitement coming to the Scouting world this fall, especially in Cub Scouts. Please see the email below and the FAQ attached. Grab something to hold on to, this is going to be a great ride!
Statement Regarding the Integration of the Lion program into the Cub Scout program:
Recognizing the success of the national Lion pilot program, the Boy Scouts of America's Board of Directors have approved integrating Lions into the Cub Scout program empowering chartered partners with packs to offer the experience to Kindergarten-age children nationwide.