Introducing our NEW EAGLE Patch!!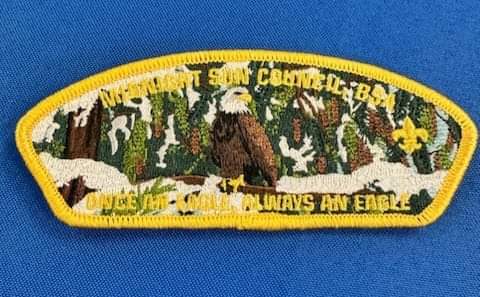 This patch is only for those who have attained the rank of Eagle Scout, youth or adult. 
Cost is $10per patch and can only be purchased through our Scout Shop.
Call (907) 452-1976 or stop by to purchase
Patch Shipment orders!
Any patch shipment orders have to be made no later than Thursdays by close of business!!
Patch shipments are completed and mailed out on Fridays at 9 am!
Check out our 2023 BSA National Jamboree Patch Set!!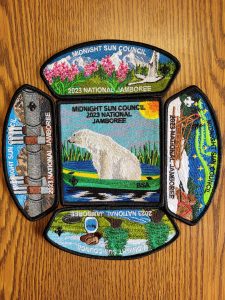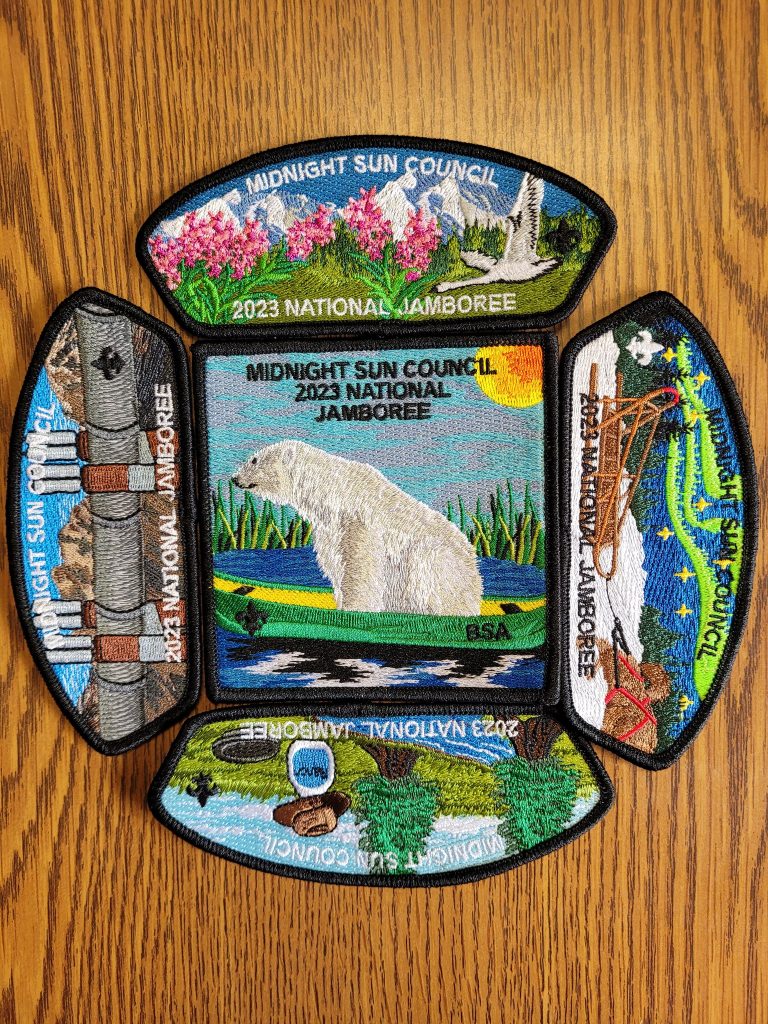 They have arrived!! They are for sale for $50 per set. Please come to the Scout Shop or call the Council Service Center at 907-452-1976 to get yours.
Patch Descriptions
1) The fireweed blooms in areas where forest fires happen and can fill entire hillsides. It can be made into tea, honey, and other foods.
2) Alaska is the mecca for dog sled racing and the famous Iditarod is based on the serum run from Nenana to Nome.
3) Did you know that Ranch dressing was invented in Alaska? That's right, it was here in the Bush where it was first made.
4) The Alaska Pipeline delivers oil from the North Slope down to Valdez, so it can be shipped out to be refined for your use. The pipeline is an engineering marvel.
5) The polar bear is an icon in Alaska. Not only would we let them use our canoes, if they wanted to, but they are fantastic swimmers! All North American bear species can be found in Alaska.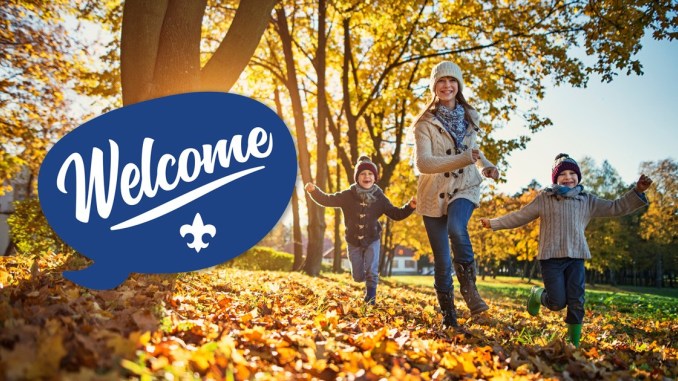 Joining a new Scout unit can be a little overwhelming at first.
You're presented with a calendar full of fun upcoming activities, but …..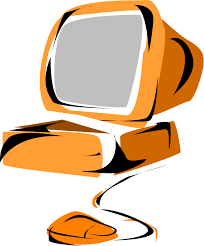 Digital Safety Guidelines for Councils to Communicate to Unit Leaders
Topics addressed in the Digital Safety Guidelines that volunteer leaders should be aware of:
BSA's youth protection policies apply to all online activities.
Safeguard personal information.
Recording online meetings is not authorized.
Collecting personal information from youth under 13 is not recommended.
More details on each topic are included in the full Digital Safety Guidelines document.
Relevant information from these Digital Safety Guidelines can be shared with your volunteer leaders. 
Note this guidance is not comprehensive, and if it differs from the legal requirements of your state or local jurisdiction, please consult with your local council attorney.
It is the mission of the Midnight Sun Council, Boy Scouts of America to serve others by helping to instill values in young people and, in other ways, to prepare them to make ethical choices during their lifetime in achieving their full potential. The values we strive to instill are based on those found in the Scout Oath and Law.
Read stories related to the Scouting community
SCOUT TOGETHER MAKE SOMETHING HAPPEN!
Scouts do stuff. They build things. Play with purpose. Make friends and work together.
Set goals and clear them. They go places. Physically. Mentally. Spiritually. These life-changing experiences — and the confidence they provide — become bricks in the wall of childhood. Bricks that eventually form a foundation. One a Scout can stand on to embrace opportunity and overcome obstacles. For the parents watching in awe, it's not a question of where their Scout will go, but where won't he go.