HOW AN ADULT MUST BE REGISTERED TO ATTEND SUMMER CAMP 2023
Adult leaders attending camp with their unit must be registered in their specific chartered organization's unit if they are at camp for more than 72 hours. (Note the "72-hour" policy will change effective 9/1/2023. Early adoption is always encouraged; however, for summer 2023 the "72-hour rule" remains in effect. If you missed the webinar regarding the upcoming change to the 72-hour rule, click here to view the recording. You can also review Scouting's Barriers to abuse here and the Barriers to Abuse FAQs here.)
Adult leaders cannot be registered as a merit badge counselor or any other non-unit position instead of through their unit to attend camp. They could be "multipled" or primary in their unit, but regardless, they must be registered with the specific unit they will attend with.
Why must they be registered in this way?
1. First: Camp is a unit program. Meaning, youth fall under the direction of their chartered organization's approved unit leaders while in attendance (see NCAP HS-502).
2. Second: Because youth participate with their unit, the chartered organization must approve any adult working with their youth. A merit badge counselor (or other non-unit position) is registered through their council and therefore does not have the required approval from the chartering organization. There is a chart below with potential positions they could register in for their unit type.
Unit Positions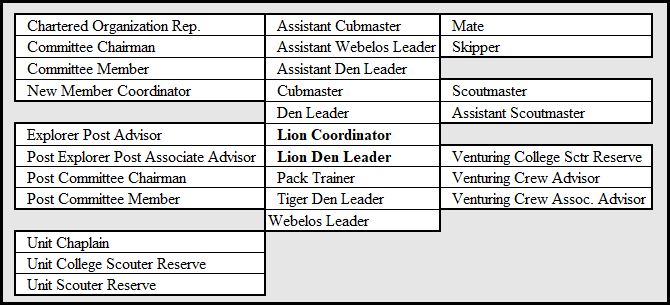 3. Finally: What about "provisional units"? Council organized camp units (sometimes called "provisional") are a council-organized activity and therefore not unit organized. Chartered organization approval would not be required. These camp / council-organized provisional "unit's" adult leaders would be required to meet SQ-401-402. Please ensure all of your registrars, participants guides etc. reflect this important guidance.